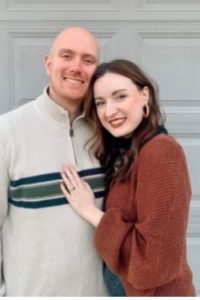 Matt Knight has lived in the Kansas City area his whole life. He grew up in Bonner Springs and attended Basehor-Linwood high school. After high school, he attended JCCC and then the University of Kansas where he graduated with a Bachelor's in General Studies. Currently, Matt is attending Midwestern Baptist Theological Seminary where he is pursuing his Master of Divinity.
In 2017, Matt started attending Fellowship West and started following Jesus in August of that year. From that day, Matt began serving faithfully in student ministry, where God would begin to stir up his heart and call him into pastoral ministry in the summer of 2019. Matt's desire for students is to identify their need for the Gospel, cultivate their relationship with God as their own (with the support of others), and share the Gospel with others in their community.
In 2019, Matt began a relationship with his now wife Laura. Laura is an amazing helpmate, friend, and constant encouragement to those around her. Matt and Laura love ice-cream, good coffee, and taking their dog Ruby to the park. If it comes down to picking where to eat, you will most likely see them at Freddy's, Chik-Fila, or El Potro.
In July 2023, Matt came on as the Student Minister at Fellowship West. Matt's responsibilities are ministering to students at West and in our surrounding communities, both at church events, outreach opportunities, and worship services, and coordinating with other staff in the overall mission, vision, and efforts of Fellowship West. He is passionate about helping students abundantly love Jesus.