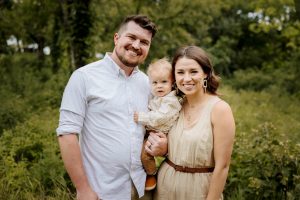 Tyler began his walk with Christ in September of 2010, during his freshman year of undergraduate studies at Missouri State University. He then began getting involved in multiple areas of ministry through leading college Bible studies, serving on multiple overseas mission teams, being involved in discipleship relationships, and playing in worship bands with a campus ministry and a local church. In February of 2013, Tyler felt a clear call to full-time vocational ministry. It was during his time at Missouri State that Tyler met his wife Melissa, whom he married in May of 2015. After graduating with a bachelor's degree in religious studies from Missouri State in 2014, he began working on a Master of Divinity degree from Midwestern Baptist Theological Seminary. Tyler graduated from Midwestern in May of 2018.
Prior to moving to Kansas City, Tyler served as an associate interim student minister at Racine Christian Church in Racine, MO. Tyler and Melissa moved to Kansas City in May of 2015 and began attending Fellowship West as members. As he worked on his M-Div., Tyler came on staff at Fellowship West as a Pastoral Intern in January of 2016. He served as a Pastoral Intern primarily by giving leadership to the student ministry and assisting in leading worship on Sunday mornings. In June of 2018, Tyler came on as the full-time student Pastor at Fellowship West.
In July of 2023, Tyler transitioned to the role of Discipleship Pastor at Fellowship West, where he gives leadership to our fellowship groups and discipleship ministries. He is passionate about seeing believers be discipled to live out a life full of faith.