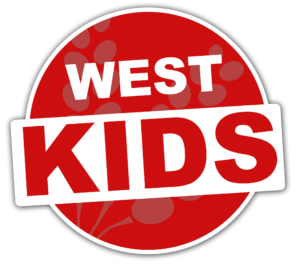 West Kids is designed to help children know, love, and follow Christ with all their hearts in a safe, high-energy, enriching environment for preschoolers to preteens. 
Camp Siloam 2019
We are taking grades 3 - 12 to Camp Siloam on July 8 - 12. This will be a fantastic opportunity for your child or student to be immersed in the fun activities, worship, and biblical teaching done at their own level!
Click on 'More Info' to learn more and register.
West Kids partners with parents to:
Develop children as Christ-followers and teach them to share their faith
Develop children as worshipers
Develop children as prayer warriors
Teach children to make wise choices according to Scripture
Support families with fun, creative ways to enhance each child's spiritual journey
Our Children's Ministry offers relevant Bible studies using curriculum called Dig In for both our pre-schoolers and elementary children. Our babies and toddlers are prayed for individually each week, while older children will be taught God's Word through activities, games, crafts, videos, and more. We also send home information for parents to help them spend quality time with their children, with fun and educational activities for each week.
We believe the parent is the spiritual leader for the spiritual development of their children. Our goal is to offer resources and encouragement to parents as they seek to make disciples in their own home!